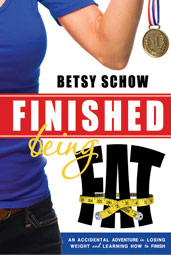 Author: Betsy Schow
Website: www.betsyschow.com
About the book:
Not everyone can win the race, but everyone can finish it.


Find the strength to conquer even your most daunting goals in this inspiring account of one woman's journey to the life of her dreams. It all started the morning Betsy Schow woke up ten pounds heavier than the month before and surrounded by the clutter of halfhearted projects and discarded hobbies. She decided she'd had enough.

What followed in her quest to wish away the extra 75 pounds around her middle accidentally changed her life for good. Using her Philosophy of Finishing, Betsy snowballed her efforts from weight loss into a bucket list of seemingly impossible dreams. Now she's here to share the simple secret to her incredible success.

Whether your goal is losing weight, running a marathon, cleaning out the basement, or all of the above, this informative book will teach you how to achieve more than you ever thought possible without sacrificing your sanity or your sense of humor.
My review:
I had seen Betsy Schow's amazing before and after pictures floating around on Facebook and had read a few of her blog posts and found her very inspiring, so I was super excited when she asked me to review
Finished being Fat.
Believe me, I'm a collector of diet books. I've already bought four or five this year. I'm not sure what the pull is. I think I keep looking for the magic bullet that will finally help me achieve the weight loss and happiness I've been searching for. The truth is, I think I'm really just putting off the inevitable. I know the answer is already inside me. I already have all the tools and knowledge I need to lose weight.
I just don't do it.
I loved Finished Being Fat because it's not just another diet book. There are no food lists or exercise charts. Instead, it's full of real life, true struggles, and a good hard look at what it takes to follow through on something even when it's hard. This book talks about some heavy subjects and exposes Betsy's vulnerability, but because of her unique sense of humor, the book feels light and uplifting.
I was extremely motivated by her weight loss story and the personal growth she experienced through the process. I appreciated an honest look at the truth behind weight loss. I cheered for her every time she achieved a milestone, and felt sad at her setbacks. After reading this book, I feel a renewed motivation to make the changes I need to make, and I realized it really isn't about losing weight at all. It's about taking one day at a time, loving yourself through the ups and downs, and finishing what you start. You are worth it, and so am I.
This book is not just for people who want to lose weight. Betsy's journey of self-discovery will help anyone who feels like they are floundering and needs a push to find the inner motivation necessary to achieve their goals. The final chapter of
Finished being Fat
includes Betsy's current list of goals. You can follow her progress and learn more about her by visiting her website,
www.betsyschow.com
.